Anthony Beal is a food and wine blogger who enjoys experimenting with putting different foods through his stand mixer's grinder attachment. A WSET3 advanced wine scholar, he is a member of the Association of Food Bloggers and the French Wine Society. To learn more about Anthony, visit his food, wine, and spirits blog FlavorfulWorld.com.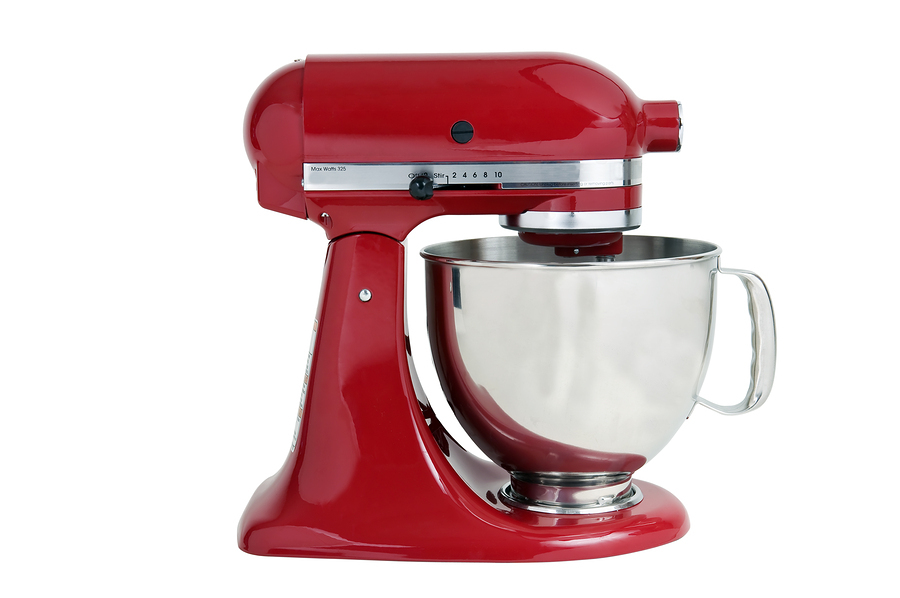 Some ideas make so much sense the first time you hear them that you can't help wondering why they didn't occur to you sooner. For many home cooks, one such notion is that of saving valuable kitchen countertop space by using one machine that serves several uses, instead of crowding that space with multiple singular-purpose devices. A reliable stand mixer, for example, with its array of attachable accessories, could be the champion kitchen multi-tasker you never knew you needed. Investing in one would mean you never again have to clutter up your meal prep area with the likes of the seven machines mentioned here.
1. Meat Grinder
While this type of machine will make quick
burgers and sausages
of your farm-raised meats and wild game, it is often expensive, heavy, and occupies a large footprint. More convenient than this often manually-operated option is the meat and food grinder attachment sold for stand mixers. Aside from being automatic, This accessory detaches for easy cleaning.
2. Pasta Roller/Cutter
Take your freshly made pasta dough from your stand mixer's bowl (thanks, dough hook!) and through the pasta roller without having to change machines. The pasta-making accessories for stand mixers let you roll and cut a variety of homemade noodles with minimal clean-up afterward since all the responsibility for the various stages of your paste creation were handled by a single device.
3. Ice Cream Maker
Chances are, if you own an ice cream maker, it doesn't perpetually occupy a piece of your counter's real estate. If homemade ice cream is an occasional treat, as it is in many households, your ice cream maker spends most of its time being stored out of sight, only retrieved whenever you want to use it. But there's something to be said for appliance streamlining, and that means getting rid of unneeded machines. The most popular stand mixers are now equipped to accommodate an ice cream-making accessory that will churn out fresh batches in a freezer-safe chilling bowl.
4. Food Processor
The food processor accessory is more commonplace than it was years ago. Every bit as efficient, convenient, and easy to clean as standard electric food processors, attachment for your stand mixer won't consume your kitchen counter (unlike the stand-alone food processing behemoths of yesterday), leaving more room to create meals with all the chopping, dicing, and shredding.
5. Cheese Grater/Shredder
There was a time when shaved, bloodied knuckles and ripped fingernails were accepted as
occupational hazards
of grating cheese by hand. One second of carelessness could result in unsightly injury. The cheese-grating stand mixer attachment automates the process in a way designed to keep your digits clear of sharp angles.
6. Citrus Juicer
One of the kitchen's larger, heavier one-trick-ponies, a stand-alone juicer becomes irrelevant once a stand mixer's citrus juicer attachment is in place.
Like the counter top juicer, its multiple pulp screens will allow just the right amount of fruit or veggie pulp into your freshly-made juice.
Unlike the counter top juicer, the attachment leaves your kitchen surfaces free and uncrowded with seldom-used machinery.
7. Spiral Veggie Slicer
Manually-operated instruments designed for this purpose can be unreliable at best, and completely unusable at worst. The spiral-slicing stand mixer accessory automates the process, offering the added bonuses of peeling and coring fruits and vegetables as well as slicing them into neat, uniform ribbons suitable for cooking as faux pasta (depending on the vegetable) or for enjoying as is. Prepare your sole-function spiral slicer to expect to have a lot of free time on its hands once you've used this stand mixer attachment.
By choosing accessories that do the things you want done in your kitchen, you will quickly come to realize what a friend there is to be had in a good stand mixer. It's like working with a sous chef that never tires and always has your back without getting in your way.
Interested in exploring for yourself just how valuable they can be?
Browse our selection of stand mixers
and meet your new best kitchen friend.